Full Name: Ciryl Jacky Gane
Date of Birth: 12 April 1990
Birth Place: La Roche-sur-Yon, France
Other Names: Bon Gamin
Religion: Christianity
Nationality: French
Ethnicity: Mixed
Height: 6 ft 5 in (196 cm)
Weight: 248 lb (112 kg)
Profession: Mixed Martial Artist
Division: Heavyweight
Ciryl Jacky Gane (born April 12, 1990) is a French mixed martial artist who competes in the heavyweight division of the Ultimate Fighting Championship where he is the current Interim UFC Heavyweight Champion. A professional fighter since 2014, he has also formerly competed for TKO Major League MMA where he was the Heavyweight Champion.As of November 2, 2021, he is #15 in the UFC men's pound-for-pound rankings.
Gane was born on 12 April 1990, under Aries' sun sign in La Roche-sur-Yon, France. Furthermore, he is quite private with his early life, family background, and academics.
Additionally, he must be respecting his parent's identity as he hasn't disclosed it yet.
Therefore, all we can do is for him to open up, and we will update you as soon as the day arrives.
Anyways, as by Ciryl, his childhood nickname used to be "Good kid." Following it, Gane has also played basketball in his early days.
Introduction to MMA
Unlike other fighters, Ciryl Gane's love for the MMA didn't sprout early in his childhood days.
Apparently, he only discovered the passion a few years ago, and before getting involved with it, he was first featured in the Muay Thai.
"I've only been interested in combat sports for few years. Before I was in basketball, I was studying parallel studies in BTS management. It was complicated."
-Ciryl Gane
Prior to his involvement in the MMA, Ciryl Gane is a two-time national Muay Thai champion. Apart from it, he is also the undefeated player of Muay Thai with a career record of 12-0.
During that tenure, Gane met Fernand Lopez, who introduced and coached him for the MMA.
Therewith, Gane entered into the MMA for the first time in 2018 and made his debut on 2nd August 2018.
Apparently, Gane had a successful debut at TKO Fight Night 1 against Bobby Sullivan.
As their match took place in Montreal, Quebec, Canada, where they fought for the vacant TKO heavyweight championship.
Altogether, Gane claimed the match with submission in the first round through a front choke.
Similarly, before moving into UFC, Gane had a total of three matches in TKO, including his debut match. All of the three matches were his victories.
To elaborate, his second fight was over Adam Dyczka (win in the second round via a TKO), followed by the match against Roggers Souza (win in the first round by a TKO).
Ultimate Fighting Championship (UFC)
Just within a year into MMA, Ciryl Gane gained his UFC contract and stepped in it for more fights. Altogether, his promotional debut came on 10 August 2019 against Raphael Pessoa.
Consequently, they fought at UFC on ESPN+ 14: Shevchenko vs. Carmouche 2 in Montevideo, Uruguay.
As their match aired live on Prelims, Gane claimed the victory via an arm-triangle choke at the end of the first round.
"After only one year of competition, I signed for the UFC, which had spotted me, and that changes everything in terms of reputation, salary. Now, I can finally say that I live from my sport and my job."
-Ciryl Jane
Ciryl Gane vs. Don'Tale Mayes
On 26 October 2019, Ciryl Gane and Don'Tale Mayes provided quite an explosive clash between the two.
Their match was held at UFC Fight Night 162 in Singapore Indoor Stadium, Kallang, Singapore.
Overall, the bout lasted till the third round, where Gane took the victory via a heel hook. All in all, the fight earned him a Performance of the Night bonus.
Ciryl Gane vs. Tanner Boser
Following his glorious career, Ciryl Gane faced Canadian Tanner Boser on 21 December 2019.
Apparently, their bout took place on the grounds of Busan, South Korea, at UFC on ESPN+ 23: Edgar vs. Korean Zombie. Additionally, their match was held live on the Prelims.
Keeping both in mind, Gane is bigger than Boser, and they both showcased their own skills. As Gane portrayed his power, Boser showed his technique, changing stances and throwing more.
The match stood aloof till the third round; however, Gane's power strikes did quite a lot of damages to Boser.
All, in the end, Gane won the match by unanimous decision (30-26, 30-26, 30-26).
Ciryl Gane vs. Junior dos Santos
Nearly after a year, Ciryl Gane had his fight over Junior dos Santos on December 12, 2020. Apparently, their match was held in UFC APEX, Las Vegas, Nevada (US) at UFC 256.
Back then, Santos was having a negative session in his career with 21-8; it was literally like walking into the lion's den.
As the match advanced, Santos tried to get with the outer position while Gane was striking openly from the inner core.
However, the bout just ended in the second round after Gane submitted Santos the technical knockout.
Ciryl Gane vs Jairzinho Rozenstruik
In a match played against Rozenstruik on February 27, 2021, Gane won the match via unanimous decision.
Ciryl Gane vs Derrick Lewis
Gane fought against Lewis on August 7, 2021, at UFC 26 for the Interim UFC Heavyweight Championship.
In this match, he won the one-sided fight via TOK. He was also able to win the performance of the night award.
The professional MMA fighter is scheduled to face Francis Ngannou for the UFC Heavyweight Championship on January 22, 2022, at UFC 270.
Ciryl Gane | Fighting Style, Stats, and Upcoming Fight
Ciryl Gane has been a hot topic in the UFC ever since his arrival. Of course, he has shown promising talents and coverage of the matches he has played in.
Additionally, with no shock that people draw in comparisons of him with former title challenger and current top contender Francis Ngannou.
Furthermore, the player has a seven consecutive winning streak, where three wins are by submission, three by knockout, and one by decision.
Ciryl Gane | Shamil Abdurakhimov's match and Injury
Back in 2020, Ciryl Gane's match with Shamil Abdurakhimov was quite an anticipated one. Infact, they were set to face each other on April 18; however, Gane had to force pull out from the bout.
To illustrate, Ciryl Gane struggled with pneumothorax (abnormal collection of air between lung and chest wall, simply, collapsed lung) during his training.
Consequently, this isn't the first injury Gane had in the UFC. Infact, he has been facing this problem since his early debut in the arena.
Thus, Gane took out of the UFC 249, and later, their bout was again rescheduled on July 11, 2020, at UFC 251.
Likewise, this time, Shamil Abdurakhimov was withdrawn from the bout due to some undisclosed reason.
Therewith, Gane was to face Sergei Pavlovich as a replacement of Shamil; however, Pavlovich also pulled out due to an injury.
Moving on, Gane and Shamil's match was fixed now for the third time. As per the news, they were to fight on 26 September 2020 at UFC 253.
In the bargain, the match was then postponed to UFC Fight Night 180 on October 18, 2020.
However, Abdurakhimov again pulled out for undisclosed reasons. Therefore, the newcomer Ante Delija replaced Shamil.
As things don't end here, Delija also pulled out of the match due to contractual problems with his previous deal with the PFL.
Ciryl Gane | Achievements
Muay Thai (

Académie Française de Muay Thaï

)
AFMT National 201 lbs Title (One time)
Mixed martial arts (Ultimate Fighting Championship & TKO)
Performance of the Night (One time)
TKO Heavyweight Championship (One time)
Net Worth
Similar to his other personal information, Ciryl Gane hasn't disclosed or discussed his net worth yet. Therefore, we estimate his net worth to be around $3 to $4 million.
In the bargain, Gane has career earnings of $ 216,500. Additionally, he earns around $5000 to $50,000 for a single fight.
Apart from it, Ciryl also endorses the footwear and apparel care brand DFNS. Furthermore, he is also the Social Inclusion Ambassador for the Greater Paris Authority.
"I am thrilled to begin this new adventure with DFNS. It's important to me to move forward with ethical brands that match my lifestyle as a fighter. DFNS is a perfect fit that offers solutions in terms of design, function, and innovative approach. I am looking forward to a long-lasting relationship with DFNS who share the same values and vision as me."
-Ciryl Gane
Ciryl Gane | Junior dos Santos Match
Controversy
As we all know, the glorious victories of Gane and the match between him and Junior dos Santos on December 12.
The match came out really well on Gane's side with a technical knockout in the second round. However, Santos had an upset law.
After the match, many had controversial thoughts about the ending. Those very thoughts bought up conflicts about the elbow attack of Gane.
According to the sources, Gane's elbow attack is considered to be illegal as Santos had backed and turned away from Gane.
However, Gane portrayed that attack that landed on the back of Santos' head.
At times, such an attack is quite dangerous and may impact long-term effects; however, neither the referee nor anyone complained about it. Thus, it was considered legal.
For that same match, Daniel Cormier, Joe Rogan, and Joe Anik were on the commentary duty, and they also stated that to be fine. Altogether, Gane took the claim over the victory.
Having said this, Santos was upset and complained about the attack; however, he ended up congratulating his opponent as no one raised a question.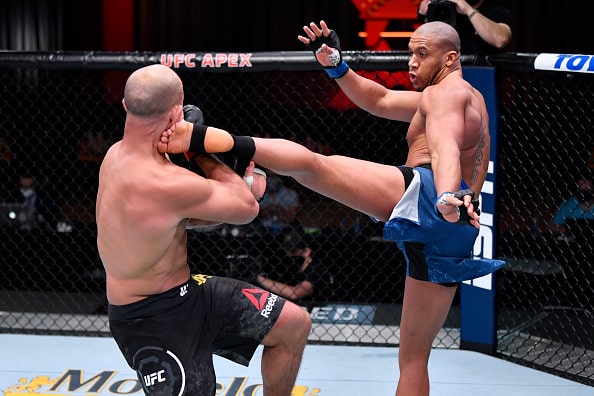 "The UFC never said a word. It's fine by them. I find that absurd. A clearly illegal shot, and the president and a bunch of fighters think that what happened was acceptable. Yes, I don't think it was intentional, but that doesn't make it any less illegal. I think they're trying to make this blow over because of the negative point I currently am in my career."
-Junior dos Santos
Legalization of MMA in France
Back until the match of Gane's with other fighters didn't have France's legal authority in MMA. However, right before his fight with Junior dos Santos, they also legalized MMA in France.
Obviously, as a Frenchman, Gane couldn't be any less happy. Alongside the news of the legalization of MMA in France also indicates that Gane can be seen fighting from his native land.
As an added fact, Ciryl Gane had also depicted his wish to be the first to anchor a show at home.
"That's really crazy. MMA started in France. I think in France, we have a big potential for the pay per view, a big potential for the fighters, the French fighters. Of course, this is a big opportunity for me too. And this [would be] a real pleasure, [to fight] in front of my family, of course, my friends and my family."
-Ciryl Gane